PPC (Pay Per Click) Campaigns
Ever wonder how companies can pay Google to get there websites in the sponsored listings on the search results page? That is accomplished by using Google Adwords or Microsoft adcenter (Bing,Yahoo) an advertising management tool that allows you to pay per click (PPC), for any keyword that your company is trying show up for in the search results. Google allows you to bid on a specific keyword or keyword phrase for a spot in the sponsored listings. The higher the bid the better your Quality Score, and the better your Quality Score the higher your website's ad will show up in the sponsored search results.
SoCal Digital Marketing can set up and manage your Google Adwords or Microsoft adcenter account to fully optimize and drive high quality targeted traffic to your growing business. Let us handle the ad creations and keyword research to analyze what keywords actually convert into sales and which ones don't to reduce your cost and maximize your ROI.
Your PPC Campaign can also be geographically specific and only appear on searches located in your local area!
If you are a Real Estate agent in Orange County you can be in the sponsored listings for only cities located in your local Orange County area so you get targeted traffic.
Google Pay Per Click sponsored ads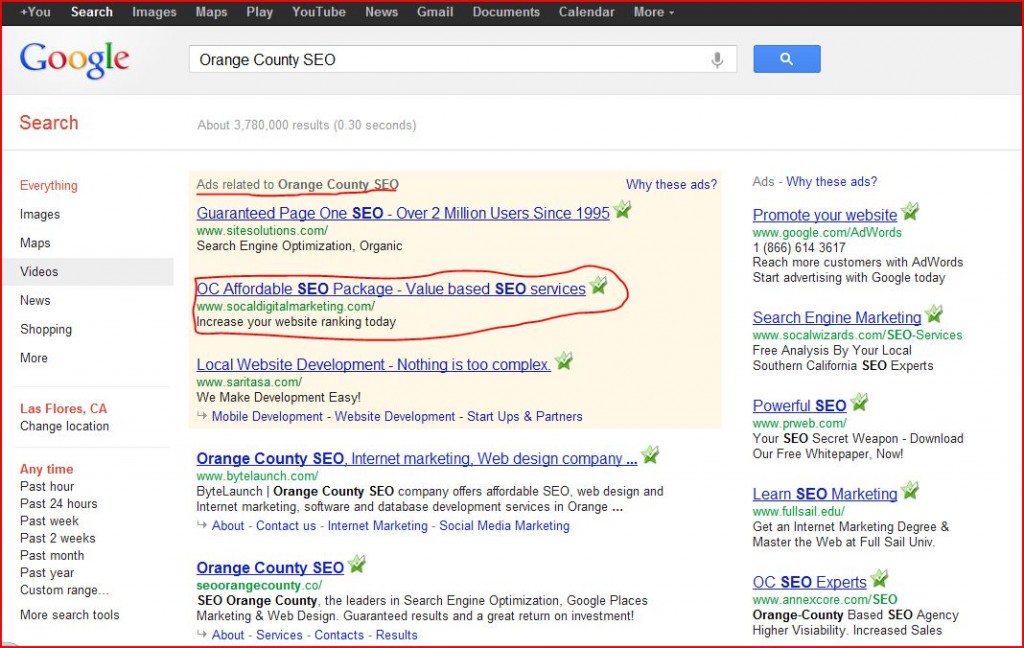 The Keyword here is Orange County SEO and the ads are underlined in red. The ads at the top of the page have a higher quality score than the ads on the left side of the page and further down.
Microsoft Adcenter – Bing & Yahoo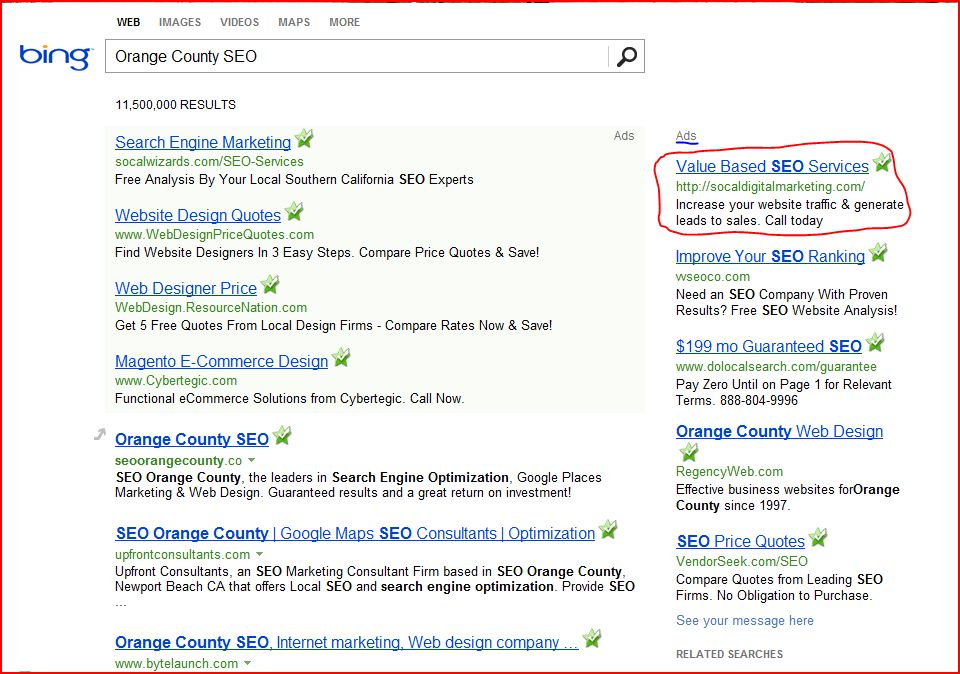 The keyword is the same for Microsoft Adcenter – Orange County SEO and the ads appear at the top and the left hand side.
SEP (Search Engine Placement)
SEP is another more defined way of using a pay per click campaign, because we research your keyword suggestions and place your sponsored listing in the search results for a set monthly price. So rather than bidding on individual clicks for keywords you can pay a one time monthly price to better estimate your budget.
Subscriptions are on a month to month basis and can be cancelled anytime, (a 7 day notice is required before billing cycle)
Paid Listings vs SEO
Pay Per Click and Search Engine Placement campaigns are very different from Search Engine Optimization (SEO) but ultimately have the same goal in mind, to generate website traffic through search engines.
By combining paid listings and SEO your website can and will generate large amounts of traffic and get your website exposed to a much larger audience. These methods used together are a very powerful internet marketing tactic because while your natural keyword listings and backlinks increase through search engine optimization, you will also be receiving hits through the instant sponsored listings.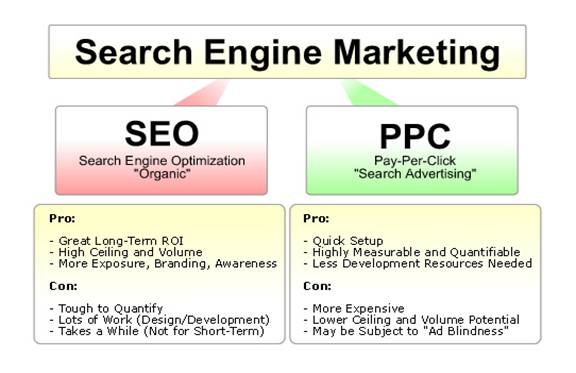 To start your online advertising and generate high quality leads!
Add us on Google + Andrew Guida